Nutrigo Lab Strength Reviews
We know working hard will definitely make us lose energy and gives us the feeling of tiredness. It may stop you from reaping the workout benefits and prevent you from making further exercise plans. So, keeping yourself active and energetic is necessary to avail the complete results of workouts without any limiting effects. To enhance your strength you can rely on this review about the Nutrigo Lab Strength.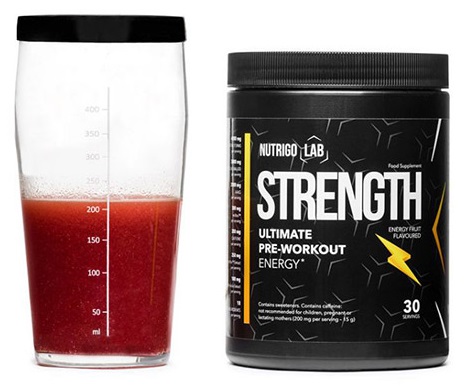 What is Nutrigo Lab Strength?
Nutrigo Lab Strength is an exclusive food supplement that is specially designed to increase your strength and endurance that can help you to work harder and better than ever before. It gives you amazing results by reinforcing your muscle fiber and improving your ability for maximum effort. The product comes in a powdered mix form that allows the below actions.
Improves your metabolism.
Supports better performance.
Improves muscle strength and endurance.
Prevents fatigue and stress.
Increases training intensity.
How Does Nutrigo Lab Strength work?
The Nutrigo Lab Strength combines the formulation of unique and active ingredients that helps you to achieve optimized results. You can attain the desired results that make you feel amazing and active even after every workout without getting tired or fatigued. The supplement works to stimulate the process of muscle improvement to feel strong and undertake the burdening challenges with 18 special extracts as:
Strong vascular booster complex: It helps to improve the muscle pump.
Neuro stimulant and Adaptogenic blend: It can increase strength and endurance by preventing the consequences of muscle stress.
Cellular energy complex: It enhances your energy and allows you to increase workloads and workout efficiency.
What all ingredients are added to the Nutrigo Lab Strength?
The Nutrigo Lab Strength contains a unique blend of ingredients that can help you to support your energy level and increase your endurance level during workouts. It has the following ingredients in 450g of Nutrigo Lab Strength.
4000 mg of Creatine: It includes the combination of malate and hydrochloride that helps in gaining strength. It expands your workout timings without getting tired and helps to focus on the exercise.
250 mg of RedNite: This active nutrient helps to increase the tolerance and endurance in athletes and boost stamina. It also supports your brain and heart health.
300 mg EnXtra: This is the botanical ingredient that provides alertness and improves focus without caffeine.
3000 mg of citrulline malate: This helps to improve the performance better and enhances the sports performance with endurance.
You can find 18 active ingredients in total to support your muscular function during heavy workouts without any tiredness.
How to consume the Nutrigo Lab Strength?
You can take 2 scoops of Nutrigo Lab Strength which is about 15g and add 200 ml of water or milk. Shake well and drink once a day 15 minutes prior to each workout. Doing this can help you to feel increased energy and reinforcement in your body. It is not recommended to mix with other products containing caffeine and not to take them before going to sleep.
How Nutrigo Lab Strength is beneficial to you?
Pros
Nutrigo Lab Strength helps your body to be prepared for performing intense workouts without getting tired.
It improves your energy, mood, concentration, motivation, and focus.
You can prevent stress and fatigue in your muscles even after working for a lot of hours.
The supplement has a natural formulation to boost your performance and there are no side effects reported so far.
It supports both the athletes and the people involved in the physical activity for enhancing their performance.
You can enjoy the benefits of the workouts without getting tired and get ready for the next duration of workouts.
It helps to reinforce your body with active and natural strength-boosting extracts to improve your muscle strength.
You can build healthy muscles, and weight and increase your endurance.
Cons
The Nutrigo Lab Strength is found only on the official website online for purchase and is not available in any stores.
The Nutrigo Lab Strength is a naturally formulated food supplement that is 100% safe to consume. It can improve your strength and endurance for heavy workouts without producing any negative side effects. There was 97% of user reviews feel amazing with the Nutrigo Lab Strength product consumption. It is manufactured with the best quality and safety ensure. It is not recommended to mix the product with any other thing containing caffeine and can be used with milk or water.
Conclusion
You can find many muscle-strengthening products in the market. But the Nutrigo Lab Strength is the incredible formulation of active ingredients that can enhance the endurance and energy level of your body. You can consume the supplement mix before 15 minutes of workouts regularly, for improving muscle strength without any tiredness or fatigue. It is so simple, effective, and easy to use. You can prepare yourself for intense workouts with this excellent Nutrigo Lab Strength mix.
And one more thing…
You have an amazing benefit to use this 100% money back guarantee for the first 60 days of your purchase. If you aren't satisfied or not benefited by the product, then you can claim your 100% refund immediately.